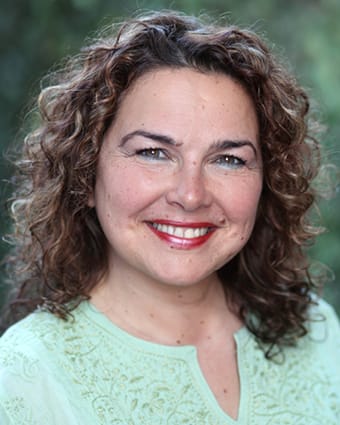 Trained at Mountview Theatre School, Belinda has worked with various theatre companies over the years and is highly experienced in national and international touring. Alongside theatres, she has performed in an eclectic range of venues from an old dairy to the Houses of Parliament (3 times) and JashneBachpan, a National Theatre Festival in New Delhi showcasing work from across the Sub-Continent.
Internationally she has performed in Los Angeles, Utrecht, Jerusalem and India. Her TV & Film credits include Exhibit A, The Secret Diaries of Anne Lister, Barking, Emmerdale, North Square, Fat Friends, The Cops and In Extreme Danger. She has also been involved with several commercial and training videos for the Corporate Sector. Her favourite Voice Over is still Curse of the Where Rabbit, the computer game for Outsource Media.

Belinda is Artistic Director of Az2B Theatre Company which she founded in 2012, writing and producing plays from evidence based research, passionate about the power of theatre to make a difference and impact change. Az2B has since gained a Arts in Health, Education & Training.
Experienced in forum theatre, improvisation and role play Belinda has worked with various organisations within the Health, Education and Business Sector and as a workshop leader/facilitator, developing training courses and educational programmes. She is also a hypnotherapist, teacher & puppeteer.
Molly studied Theatre and Contemporary dance at The Hub Theatre School and Bath University. She began her career as an apprentice with C-Scape dance Company on their Guilty Fingers tour. She has continued to work with C-Scape throughout her career, dancing in the Lord Mayors Parade, The landings Project at Trebah Garden, at festivals and many other bonkers events!

Next was a long stint with Rogue Theatre in Madame Lucinder's Wonder Show as Lolo the Clown, along with all kinds of festival walk-about Biographies and youth projects. In 2009 Molly joined Bish Bash Bosh Theatre Company touring with Surfing Tommies, The Tin Violin and as stage manager in A Mere Interlude. She has worked as Emily Browning's stand-in on the
film A Summer In February as well as various other short film roles.
Molly has also had fun choreographing for the BBC and ITV's Doc Martin. Alongside her Theatre work Molly has sung in bands for 22 years, fronting the Swing band 'Some Like It Hot' and as an original member of 'The Peoples String Foundation' – highlights including performances Glastonbury and The Hall For Cornwall. Grandma On The Moon is Molly's directing debut and she has loved every minute!
Martin Skews is an exciting composer and singer-songwriter from Falmouth, forming Rick Rebels, his first rock band aged 12 and his first solo album Twisted Tree at 15. He attended Stage Coach Theatre Arts School in Truro for a number of years, during which time he worked extensively as a young actor, appearing in many theatre productions and episodes of television programmes such as Doc Martin, Down To Earth and providing the voice of Noddy in the Channel 5 series Make Way For Noddy. Further training followed at South West Music School followed by the Royal Welsh College of Music and Drama where he studied compostion. His composition is eclectic, from chamber music pieces and orchestral pieces to music for media and theatre, he also released A Different Beast in 2015, his most ambitious solo project to date.His principal focus currently is as composer, lead musician and a performer with the award-winning Rogue Theatre in Cornwall, as part of an amazing team of practitioners and performers. He is also a freelance musician and composer, working with acts such as The People's String Foundation,
Lucy is a highly experienced lighting designer and technician working nationally and internationally. She trained at Croydon College London and Falmouth Art College and is also qualified in Rope Access and rigging. She has designed lighting for an
eclectic range of companies with installations at Kensington Palace and Kew for Historic Royal Palaces, and Croome Court and Lacock Abbey for the National Trust.

Internationally Lucy worked with the Giant Puppet Project in Cambodia for 3 seasons and, sponsored by the British Council, with Kneehighs' Red Shoes in Lebanon, Syria, Hungary, China, Denmark and Sweden. Well known in Cornwall she has also Project, Shallal Dance company and with the amazing Man Engine, from Goldentree Productions. Outside of theatre she is an illustrator and also makes handmade silver jewellery. Other interests include hiking, body boarding, photography and discovering the worlds hottest chillies, tastiest curries and best chocolate!
Steve is a highly experienced actor, director, improviser, role player and facilitator. He trained at the Guildhall School of Music and Drama and has since built up an extensive CV playing an eclectic range of parts nationally and internationally. Living in Penzance, Steve has worked with many companies across Cornwall including Miracle Theatre, Kneehigh, Wildworks, The Minack Theatre Company, Bish Bash Bosh, Hall for Cornwall and Cube. Outside of Cornwall he has worked with the English Touring Opera playing King Lear, in Immortal with Nofitstate Circus, at the Lyric Hammersmith and with the RSC Stratford. Internationally he has performed in Malta and Cypres with Kneehigh, across Europe in The School for Scandal playing Trip and playing a musician in Excuse me in Brazil. His TV credits include Poldark, Doc Martin, The Bill, Wycliffe, Inspector Wycliffe, The Frightened Lady, Grey's Lot, Wild West and the film of Miracle's production Tin.
Steve has previously worked with Az2B in a forum theatre project exploring the impact of dementia within communities and we are delighted he is joining us again bringing his youthful charm and comedic touch to the character of Timmy.
Tori trained in mime and physical theatre and has since worked as an actor, director, circus performer and puppeteer. Her work has included being joint Artistic Director of Moving Hands Theatre and she continues to work with them as a consulting director and on a project basis. The company specialises in Theatre for children and family audiences, using combined performance styles, puppetry, mime, music, masks and animation.
Touring nationally and internationally, work has included tours of South Africa, international festivals and commissions from The Lyric Hammersmith, Birmingham Rep and Visions. Based in Cornwall she has worked with many local companies including Cube, Hall for Cornwall, Jane Pugh and Life Girl, Commissions from Godolphin House (NT), The Minack Theatre and on various community theatre and art projects. She was also the original director for Az2B's Grandma Remember Me? which continues to nationally every Autumn.